Relevancy and Engagement
ny.agclassroom.org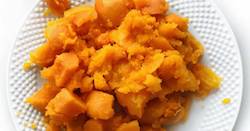 Sweet Slow Cooker Squash
Students have the opportunity to taste winter squash in the classroom with this simple slow cooker recipe.
Time to Complete
10 minutes to prepare squash; 3.5-4.5 hours to cook in a slow cooker
Materials
1 winter squash, any variety, cut in half and seeded
2 tablespoons butter
2 tablespoons pure maple syrup
1/2 to 1 cup water
6 qt or larger slow cooker
Tongs for removing cooked squash
Plate or casserole dish for the squash after it is cooked
Small scoop or metal spoon for serving
Small paper cups or plates for each student
Procedures
Place squash skin side down in the slow cooker. You should be able to fit both halves (or more) in at a time.
Place 1 tablespoon each of butter and maple syrup in each squash cavity.
Pour water into the bottom of the slow cooker to about 1/2 inch.
Cover and cook on high for 3.5-4.5 hours. The time will depend on the size and variety of your squash. Varieties like acorn, delicata, and carnival squash will cook quickly while butternut, kabocha, and red kuri will take longer.
Remove the squash onto the plate or casserole dish using the tongs. Use a spoon to mash and stir the butter, syrup, and squash together. This can be done inside the skin of the squash.
Serve and Enjoy!
Author
Organization
Midwest Food Connection
Lessons Associated with this Resource