Relevancy and Engagement
ny.agclassroom.org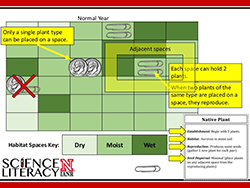 Invasive Species "Space Invaders" Game
The Space Invaders game helps students better understand the adaptive traits of plants in a new environment. The game simulates introducing new plants to 3 different ecosystems. After several rounds of play, students will see which plants survive and reproduced as well as which plants were potentially displaced.
Time to Complete
45 minutes
Materials
Space Invaders game, 1 copy per group
Instructions
3 game boards per group
3 plant type cards per group
3 different types of game pieces (Pennies, dimes, paper clips, safety pins, buttons, beads, etc.-- 24 pieces per student)
Procedures
Preparation:
Make enough copies of the Space Invader game for each group to have all three of the game boards, a set of instructions, and a set of plant type cards (pages 4-8 of attached Space Invaders game.)
Gather 3 different types of game pieces (Ideas include paper clips, buttons, beads, safety pins, or coins) with at least 24 pieces for each student.
Learn how to play the game using the instructions and illustrations found on pages 1-3 of the attached Space Invaders game.
Space Invaders Game
Provide students with access to the Space Invader game materials.
Use pages 1-3 to introduce the rules of the game. You may want to play a quick game as a whole class so that all students fully understand the instructions.
Have students complete 1 full game (5 rounds) and record their results in the game scorecard.
If time allows, have students play an additional 2 games so they have a chance to play on all three game boards (wet, dry, and normal). This opportunity lets students observe differences in plant type performance under different environmental conditions.
Once students have played the game, use page 9 of the attached document to discuss the follow-up questions as a class or individually.
Summarize what students have learned. Students should begin to see that traits such as reproductive capacity, ease of seed dispersal, and tolerance of different moisture conditions can greatly influence how a plant type performs and that a plant can be well adapted or not to differing environmental conditions.
File, Map, or Graphic
Author
Jonathan Anderson, Allison Zach, Erin Ingram, and Molly Brandt
Organization
University of Nebraska-Lincoln
Sources
Author Affiliations:
Jonathon Anderson: Norfolk High School, Norfolk, NE
Allison Zach: Nebraska Invasive Species Program
Erin Ingram: University of Nebraska-Lincoln, IANR Science Literacy Initiative, National Center for Agricultural Literacy
Molly Brandt: University of Nebraska-Lincoln, IANR Science Literacy Initiative, National Center for Agricultural Literacy
Lessons Associated with this Resource