Relevancy and Engagement
ny.agclassroom.org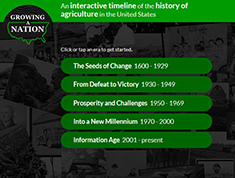 Growing a Nation Multimedia Timeline
This multimedia timeline pairs with Growing a Nation lesson plans using interactive technology to bring depth and meaning to historical events. The timeline includes stories and is linked to lesson plans that merge seamlessly with existing American history textbooks and high school history curricula. The program covers historical events such as the Dust Bowl, Great Depression, Civil War, and the impact of science and technological growth.
URL
Author
Organization
Utah Agriculture in the Classroom
Sources
The content of this program (2018) is based upon work supported by the National Institute of Food and Agriculture (NIFA), United States Department of Agriculture (USDA), under Agreement No. 2004-38840-01819.
Lessons Associated with this Resource