Milestone Exploration for Volunteers
Plants & Animals
---
Agriculture and Me
Background Agricultural Connections
Agriculture is an important part of our lives, from what we eat to what we wear to what we use in our everyday life. We may not always think of agricultural products as the physical source of the items or things we use every day. However, most of these daily essentials can be traced back to an agricultural source.
Production agriculture, or farming, is what most people think of when they hear the word agriculture. This is the actual production or growing of raw commodities. People typically categorized as farmers and ranchers are people who raise and harvest crops and livestock for consumption or purchase. It doesn't stop there. Production agriculture also includes a wide variety of specialties such as raising fish, timber, fur-bearing animals, herbs, and much more.
Many of the products we use every day come from agriculture. The sheets we sleep on and the pajamas we wear are made from cotton. The feathers in pillows may come from chickens or ducks. The cereal and milk we eat for breakfast, the pencils, crayons, and paper we use at school, and the baseballs, bats, and gloves we use after school all originate from raw agricultural products. We know that our food comes from agriculture, but we are also surrounded by and reliant upon many other inedible agricultural products that we use every day.
Suggested Book
How Did That Get in My Lunchbox? by Chris Butterworth
One of the best parts of the day is opening a lunchbox and diving in. But how did that food get there? From planting wheat to mixing dough, climbing trees to machine-squeezing fruit, picking cocoa pods to stirring a vat of melted bliss, here is a clear, engaging look at the steps involved in producing some common foods. Health tips and a peek at basic food groups complete the menu.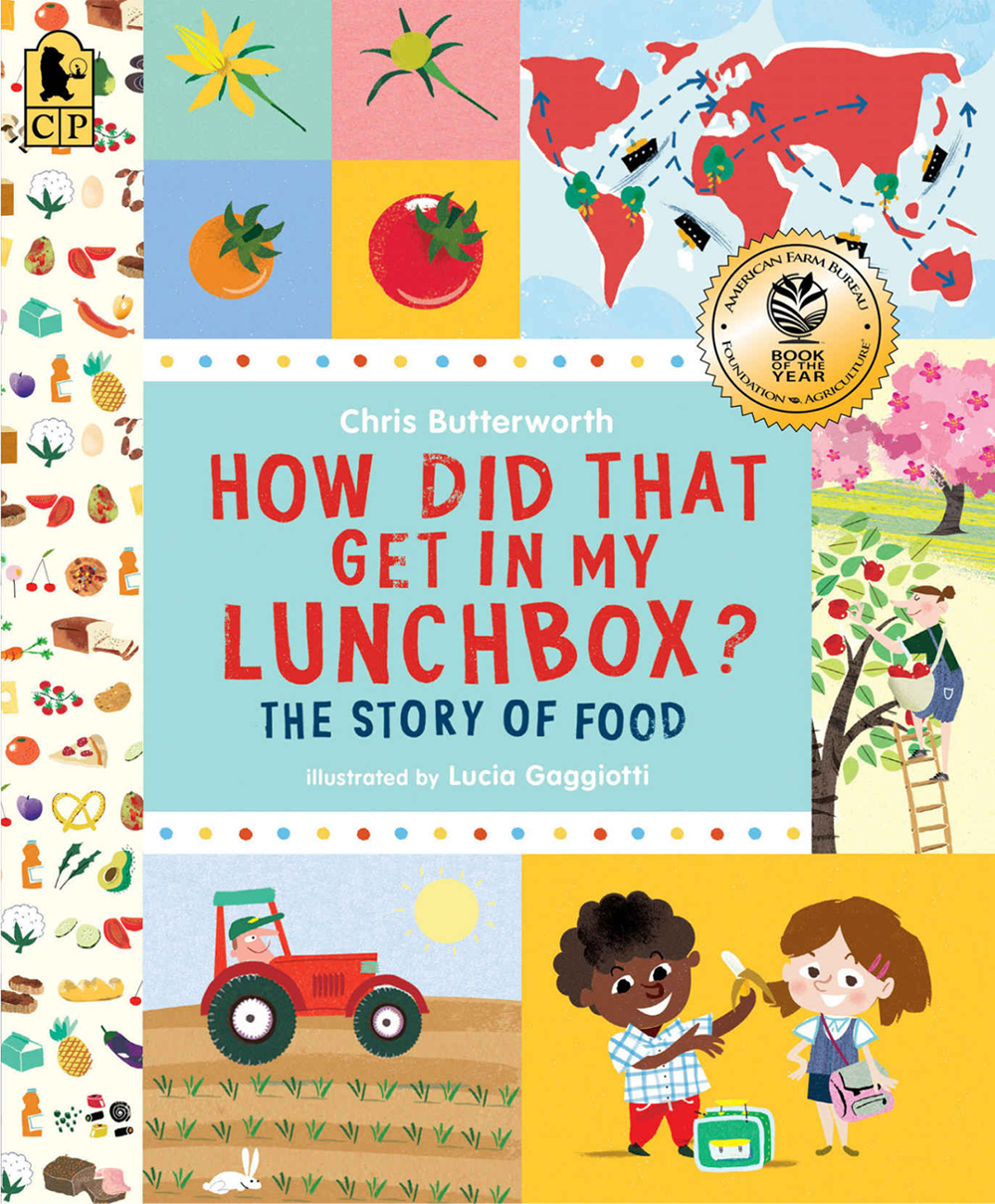 Farm Tour
Background Agricultural Connections
There are many different kinds of farms—dairy farms, livestock farms, ranches, poultry farms, aquaculture, apiculture, grain farms, vegetable farms, orchards, vineyards, cranberry bogs, etc. Farms can be diverse in size and in product. Farms may be owned by companies or family-owned, large-scale or hobby-sized. Farm size depends on the availability of land and resources such as money and workers to manage the farm. Farms may raise animals such as poultry, livestock, fish, or insects or they may grow crops such as fruits, vegetables, and grains. Some farmers sell their products locally. Other farmers sell their products to large companies to process into other goods such as food, clothing, craft items, or medicine. Knowledge of the different kinds of farms present in today's world increases awareness that all of the products we utilize have to come from somewhere. Understanding how agriculture affects daily life often means that the process is not taken for granted.
Suggested Book
Real Farm & Ranch Kids by Sue Tebow
A collection of "interviews" with girls and boys, who live, work, and love their ranching life and the animals they care for.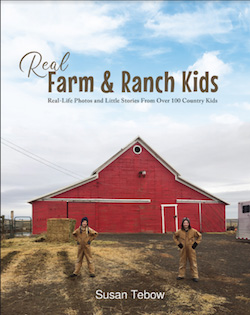 Video Collection
Can't get to a farm? Take a virtual tour!
Life Cycles
Background Agricultural Connections
Farmers must understand the needs of the animals and plants they raise and grow at each stage of the animals' and plants' life cycle. All plants and animals have a beginning and ending to their life cycles.
Baby animals grow into adult animals and can become parents. Animals are fed and cared for by farmers and ranchers according to the animals' needs and their stages of life.
There are six stages in a plant life cycle—seed, germination, growth, reproduction, pollination, and seed spreading. A plant grown for food and fiber can be classified by how long it takes the plant to complete its life cycle. An annual plant has a life cycle of one year, the life cycle of a biennial is two years, and a perennial lives for many seasons.
Suggested Book
Chick Life Cycle by Elizabeth Bennett
Learn all about a chick's life cycle by exploring different chicken breeds, the parts of a chicken, how the chick embryo develops, and how a baby chick grows into a mature hen that can lay its own eggs.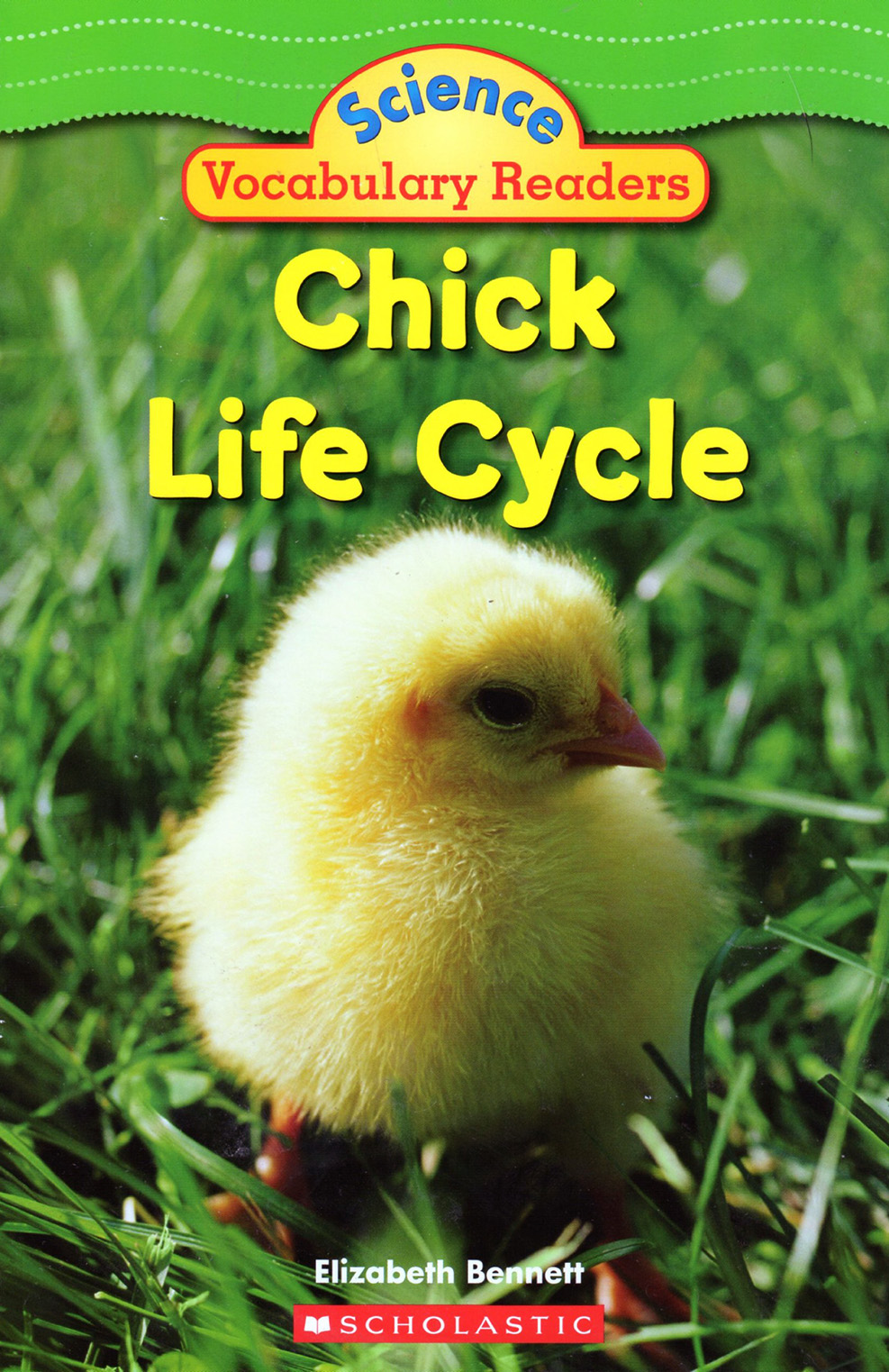 Suggested Book
Sunflower Life Cycle by Jeff Bauer
Learn all about a sunflower's life cycle by exploring how sunflower seeds grow from a seed to a flower, how flowers produce seeds, and what sunflower seeds and parts of sunflowers can be used for.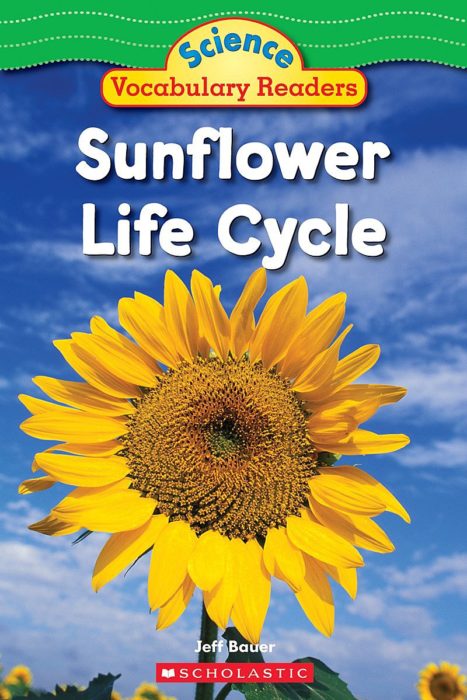 Eating Plants
Background Agricultural Connections
The fruits and vegetables we eat come from parts of plants. Flowering plants have six main parts—roots, stems, leaves, flowers, fruits, and seeds. Each plant part serves a different function.
Roots act as anchors, holding a plant in place. They take up water and nutrients a plant needs from the soil. Roots can also store extra food for future use. Beets, carrots, radishes, and turnips are examples of edible roots.
Stems provide support for leaves, flowers, and fruit. Water, nutrients, and sugars travel to and from other parts of the plant through the stem. Asparagus is a stem that can be eaten. Potatoes, often mistakenly thought to be roots, are actually enlarged underground stems called tubers.
Leaves use energy from sunlight to carry out photosynthesis and make food for the plant. Edible leaves include arugula, cabbage, lettuce, mint, and spinach. Celery and rhubarb, commonly thought to be stems, are actually the part of a leaf called the leaf stalk or petiole.
Flowers contain the parts of the plant necessary for reproduction and play an important role in pollination. The shapes, colors, and scents of some flowers attract insects and animal pollinators. Following pollination, the fertilization process occurs within the flower. During fertilization, the ovary swells and seeds are produced. The flowers of some plants are edible. Broccoli and cauliflower are flowers that can be eaten.
Fruit is the part of the plant that contains seeds. This botanical definition includes many foods that are typically considered to be vegetables, such as cucumbers and green peppers, as well as more commonly recognized fruits, such as apples, oranges, bananas, and strawberries.
Seeds have three parts—the embryo, the endosperm, and the seed coat. The embryo grows into a new plant, the endosperm provides nutrients for the embryo, and the seed coat is the protective outer covering that encloses the embryo. With proper conditions, seeds will grow into new plants. Corn, wheat, peanuts, black beans, and sunflower seeds are examples of edible seeds.
It is important for students to understand that not all roots, stems, leaves, flowers, fruits, and seeds are edible and that some may even be harmful to humans if eaten. Stress the importance of not eating parts of wild plants unless a trusted adult is confident that the plant parts are safe to eat.
Suggested Book
Tops and Bottoms by Janet Stevens
The story of a lazy bear and a conniving hare as they learn about plants that have food on the "top" and plants that have food on the "bottom." Learn about the parts of plants that some of your food comes from.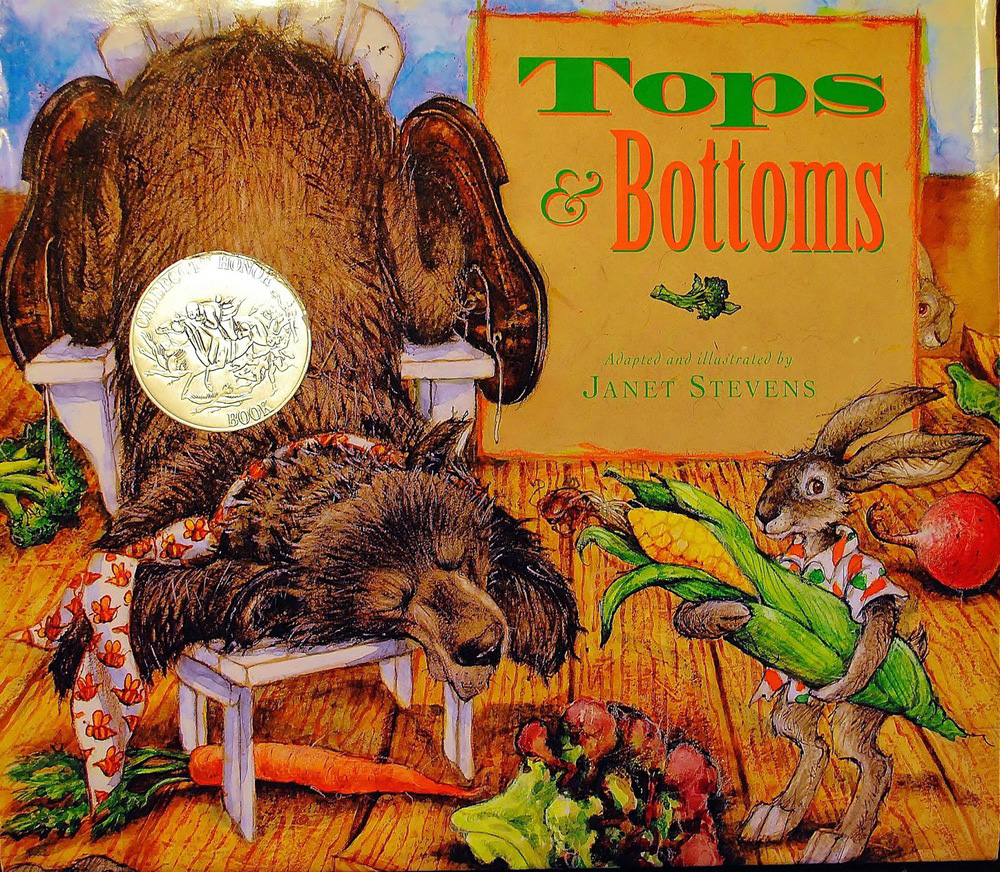 Chart
The fruits and vegetables we eat come from parts of a plant. Identify examples of roots, stems, leaves, flowers, fruit, and seeds from every letter of the alphabet using this colorful chart.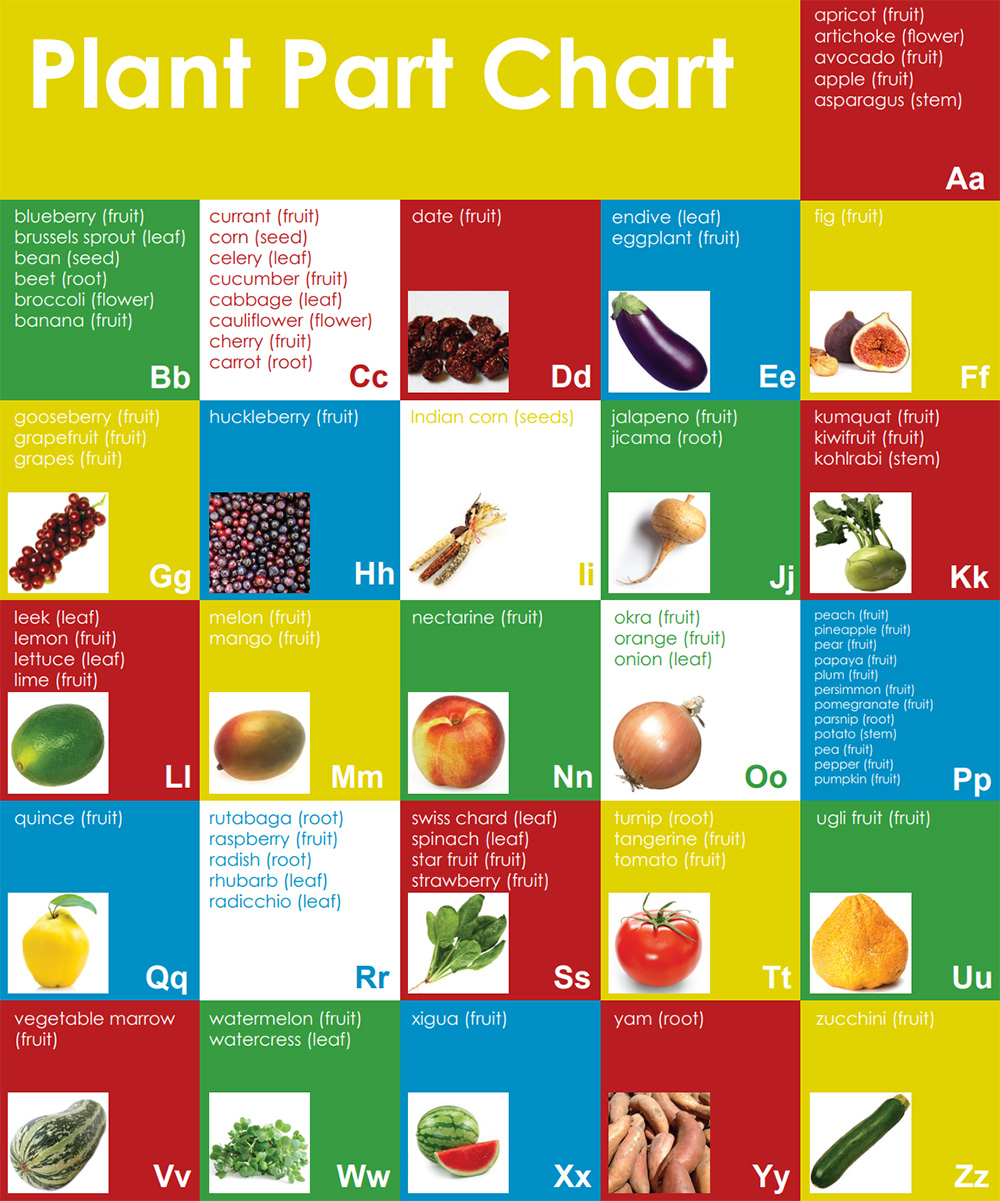 Pollinator Hotel
Pollinator Hotel Tutorial Video
This tutorial video will walk you through the Pollinator Hotel activity.
Background Agricultural Connections
A pollinator is an agent that moves pollen, whether it be wind, water, bees, bats, moths, or birds. Insects are among the most common pollinators. Many flowers grow flashy petals and produce unique smells to attract insect pollinators. These flowers trade sweet nectar and protein-rich pollen in return for the pollination service insects perform as they move from flower to flower. Insects don't just pollinate for fun; most are collecting food.
A pollinator hotel provides nesting cavities for insect pollinators such as solitary bees and lady bugs. It is important to clean or replace nesting materials every year to avoid diseases and parasites. If invasive bees are present in a pollinator hotel, the structure should be removed. Invasive bees may transmit diseases or become aggressive towards native bees. To learn more about invasive bees in your area, contact your local County Extension Office.
Suggested Book
Pollen: Darwin's 130 Year Prediction by Darcy Pattison
How long does it take for science to find an answer to a problem? On January 25, 1862, naturalist Charles Darwin received a box of orchids. One flower, the Madagascar star orchid, fascinated him. It had an 11.5" nectary, the place where flowers make nectar, the sweet liquid that insects and birds eat. How, he wondered, did insects pollinate the orchid? It took 130 years to find the answer.