Programs
Virtual Field Trips
Visit the Farm from your Classroom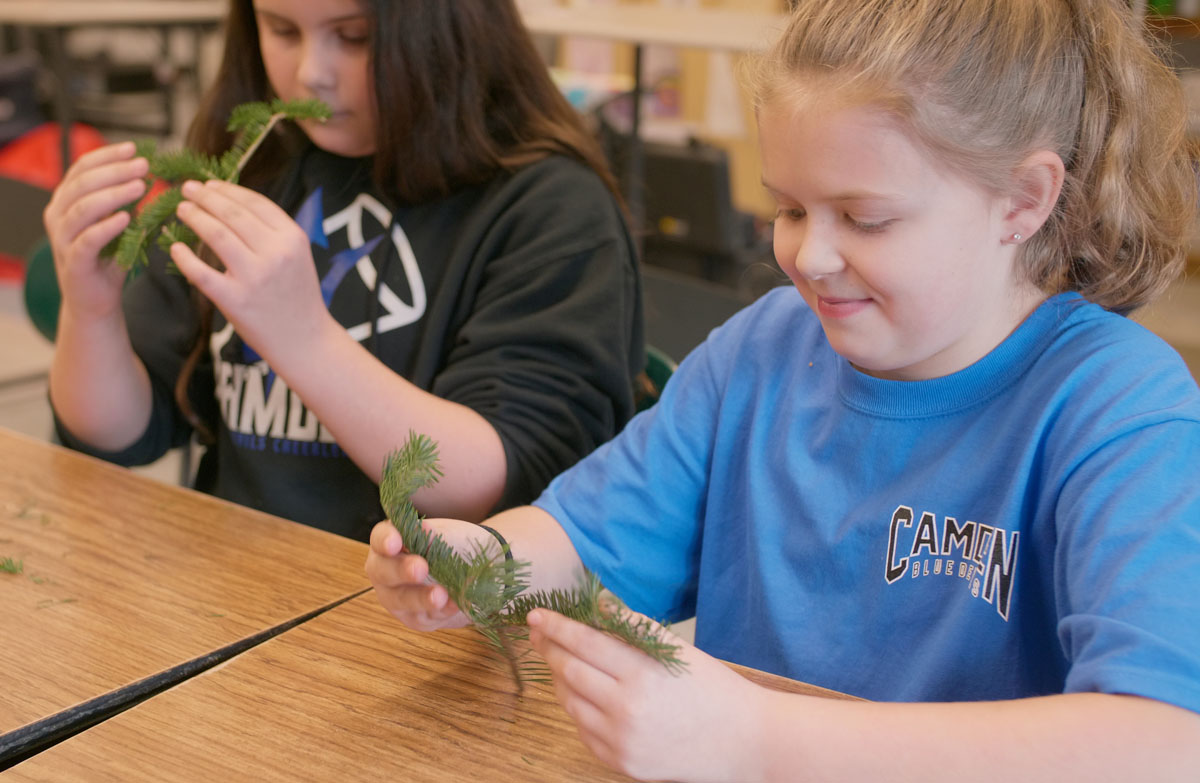 Food and agriculture experiences come to life for students during farm visits, and now an opportunity to give a look behind the barn doors is more accessible than ever with a virtual field trip.
With field trip and transportation funding becoming more scarce every school year, you can still give your students an interactive look at farms and food-related industries. Live virtual field trips are engaging because students will have the chance to ask the farmers questions in real time. Experiences will be developed for grades Pre-K through 12, and each individual field trip description will include the grade levels appropriate for an experience.
Classroom Requirements
Device connected to the internet
Webcam, microphone, and speakers
Access to Zoom

Work with your school's IT staff to ensure these sites are not blocked
Before your Virtual Field Trip
Inquiry Box
Prior to your virtual field trip you will be shipped an Inquiry Box to help trigger the curiosity of students. The Inquiry Box will hold four to six items that may include a tool used on the farm, products that are essential to animal or plant health, a farm or food by-product, samples, and more. None of the items will come with a description, and all of the items will be discussed, viewed, or demonstrated during the virtual field trip.
Strategies to Consider with your Inquiry Box:
Schedule an unboxing to build anticipation
Students select an item, create a hypothesis of its use or function, research, and present findings to the class
Place the items around the room and students move in stations to examine each item and hypothesize it's function
Write a question about one or more item to ask the farmer
During the field trip, students can check off which items they see, sharing locations or context of each item during your debrief
Upcoming Virtual Field Trips
Exciting new virtual field trip opportunities are in the works! Check back here for updates and more information.
J.M. Joy and EnJoyAble Acres Farm LLC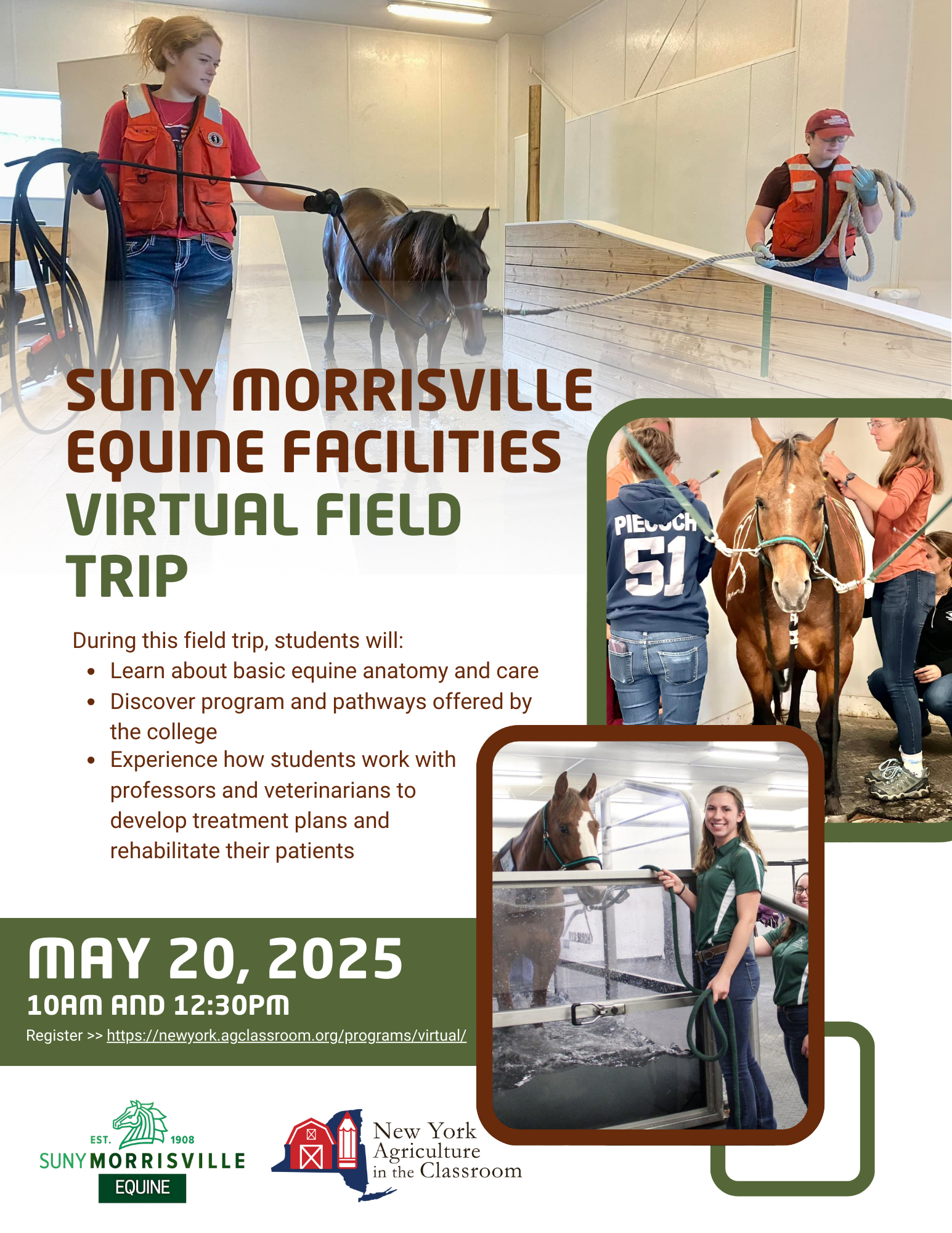 Fredonia, NY
Thursday, October 7
10 am and 12:30 pm
40 minutes duration
PreK – 12th Grade
Ever wonder where your glass of grape juice comes from? Maybe you are curious to know how those grapes are harvested or even if there is a difference between a red, green, or yellow grape. Do you know if a grape grows on a bush or a tree or that New York State has a grape belt and is the second largest producer of Concord grapes in the nation?
If you would like to learn more about the world of grapes, sign up for our virtual field trip to J.M. Joy and EnJoyAble Acres Farms which lie deep within the Lake Erie Grape Belt. You will experience firsthand how grapes are grown, what they grow on, climb inside a unique harvesting machine, and much more…!
J.M. Joy Farm and EnJoyAble Acres Farm LLC are family owned 4th and 5th generation farms run by the Joy Family in Fredonia, NY. They are a contracted Welch's grape farm growing Concord, Niagara, and table grapes. The Joy family also grows many different varieties of vegetables as well as field crops and hay to support their goat, poultry, and hog operations.
---
Lucky 13 All Natural Beef Angus Farm
Tully, NY
Tuesday October, 12 2021
10 am
40-minute in duration
Join New York Agriculture in the Classroom and the New York Beef Council in a Virtual Beef Tour at "Lucky 13 All Natural Beef Angus Farm" with beef producer Erin Hull.
Lucky 13 is an all-natural beef angus farm operated by Erin and David Hull and their two young children, Oliver and Elsa in Tully, NY. The Hull's pasture raise only purebred red angus cattle giving them access to pasture 24/7, 365 days a year as well as grow their own winter hay for their cattle.
The 40 min virtual beef tour will take you through the Beef Lifecycle on their upstate NY farm.  Farmer Erin Hull will talk about the handling of the cattle, cattle nutrition/feeding/grazing, the environmental practices and what she does on and off the farm every day.  Erin will walk you around her farm and describe how she manages it all to ensure a safe, quality wholesome product for her customers.  There will be time to ask questions and gain greater insight in how beef farmers grow beef!
---
LynOaken Farms
Medina, NY
Wednesday, October 13
10 am and 12:30 pm
40 minutes duration
PreK – 12th Grade
For apple orchard owners across New York State, the cooler weather and the changing leaves means harvest time. With nearly 700 orchards covering nearly 70,000 acres of farmland, New York State ranks second in apple production in the nation. But what happens to all those apples? How do they get from the orchard to the store or what does an apple orchard even look like?
To find out the answer to these questions and get answers to many questions you might have, join us on our virtual field trip to LynOaken Farms in Medina, Ny. Wendy Oakes Wilson (granddaughter of founder Leonard Oakes, general manager of LynOaken Farms and president of Leonard Oakes Estate Winery and Steam Punk Cider) will give us a tour of the over 100-year-old farm which was started by her grandfather in 1919. LynOaken orchards contains 15 classic breeds and hundreds of heritage apples most of which you have never seen in a store. Wendy will also take us through there commercial apple storage and packing lines both of which allows LynOaken Farms to provide apples throughout the year.
---