Programs
Top Cut Beef Experience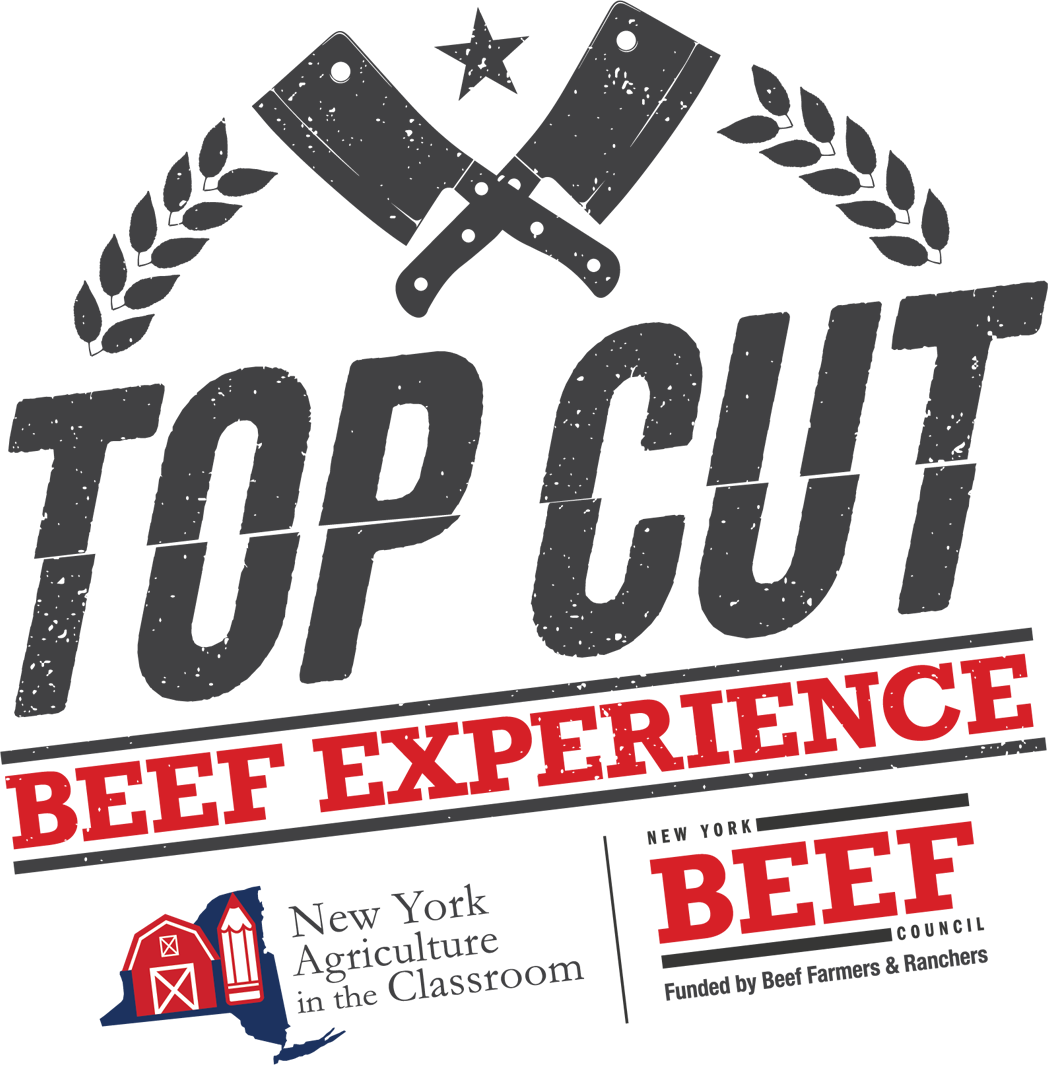 The Top Cut Beef Experience is a cross-curricular program for middle and high school students to engage with and understand beef production, developed through a partnership between New York Agriculture in the Classroom and the New York State Beef Council. This experiential learning contest allows students to create a marketing strategy for a product of their choice, while learning about the multitude of agricultural careers and skills it takes to develop and sell a product. Students will also learn about beef production and beef nutrition, as a result of participation.
Following the realistic theme, "Cafeteria Takeover", teams will compete to develop a beef product of their choice that could be found in their school cafeteria while working with their school's food service personnel to identify the process of procuring, preparing, and providing a balanced school lunch.
NEW! New this year is an updated contest format. The Top Cut Beef Experience will be offered in both the fall and spring so that teachers with classes that switch out each semester may participate with all of their classes. The contest will no longer require pre-registration to participate and each teacher that has students submit a completed entry will receive a prize for their classroom.
Objective
Students will work as a group to develop a marketing and nutrition plan for a beef-centric product or recipe that could be served in their school cafeteria.
This year's school lunch theme will allow students the real-world experience of feeding their peers a nutritional and balanced meal while also developing connections with their school service workers and learning the intricacies of food procurement and recipe development.
Eligibility and Divisions
Sixth through 12th grade students working in groups or as a classroom in New York State are eligible to participate. Multiple groups or classrooms from the same school may participate. FFA chapters, home school groups, and private schools are also eligible to participate.
Middle School (6th – 8th Grade)
High School (9th – 12th Grade)
Contest Timeline
Fall Contest
Opens September 6, 2023
Submissions are due December 6, 2023
Spring Contest
Opens February 6, 2024
Submissions are due May 6, 2024
Contest Awards
Each teacher that has students submit a completed entry will receive a prize for their classroom. Prizes are limited to one per teacher each semester.
For teams that meet the state requirements for a well-balanced lunch in their project submission, their lunch could be selected to be featured on the New York Beef Council Website.
Each classroom will receive:
George Foreman Grill
Grilling Supplies
"Beef. It's What's For Dinner" teacher's shirt and sticker
Grilling & Beef Resources
Contest Procedures
Use the following documents to find the contest requirements and contest template. The requirements and template will walk you and your students step-by-step through this year's contest. The template should be used when submitting a project with each section filled out. The descriptors in each section should be removed in the final submission.
Procedural Documents
Judging Criteria
Questions
Please direct any questions you have about this contest to Sarah Hale.
Contest Resources
Please use the following resources to implement the Top Cut Beef Experience in your classroom.
Explore the Past Winning Schools and Projects
Check out the impressive submissions from the past winners of the Top Cut Beef Contest!
---