Programs
Agricultural Literacy Week
Agricultural Literacy Week ~ March 15-19, 2021
How Does Agricultural Literacy Week (ALW) Work?
In celebration of New York agriculture, volunteers throughout the state will read a book with an agricultural theme to elementary students, with a focus on second grade classrooms. Farmers, FFA and 4-H members, adults engaged in a career in agriculture, and engaged in our food system volunteer to enthusiastically engage your students in a paired hands-on activity related to the book to extend learning. The book will be donated to the school or classroom library with a bookplate recognizing the donor and our celebration of New York Agricultural Literacy Week. 2,300 books were donated last year while 75,000 elementary students participated in an experiential learning activity.
Start to finish the program takes approximately 40 minutes per classroom
Agricultural Literacy Week volunteers work with their county's coordinator to set up visits to local schools
Volunteers read the selected book aloud to the students.
Following the reading, volunteers conduct an activity with students and share their experiences in agriculture.
The book is donated to the school or classroom library for students to enjoy and reference throughout the school year.
All activity materials are prepared by NYAITC and schools get to keep a copy of the book for their school or classroom library.
About This Year's Book
Chuck's Ice Cream Wish (Tales of the Dairy Godmother)
Ice cream is a treat we enjoy in many forms and flavors. But how often do we stop and think about how the ice cream we're eating made its way to the cone or dish we are enjoying it from? Chuck's Ice Cream Wish (Tales of the Dairy Godmother) connects the delicious treat to the work farmers are doing every day to grow, raise and produce our food. This book will take students on an explorative journey learn about dairy and to trace the food on their plate back to its source- the farmer.
With over 4,000 dairy farms and ranking fourth nationally as the largest producer of milk, dairy is vital to New York State. New York State is also the largest producer of yogurt, cottage cheese and sour cream in the nation. The dairy community in New York includes both large dairy operations and small, family run farms. It also boasts processing facilities of various types and sizes, from major global processing companies to small artisanal dairy product makers. We are excited to feature a book that displays the unique markets and diversity that encompasses many aspects of New York's dairy industry while also focusing on processing and how consumers contribute to agriculture.
Chuck's Ice Cream Wish (Tales of the Dairy Godmother) highlights the dairy industry with vivid illustrations and a humorous storyline. Students will understand the importance of agriculture as an economic driver in communities across New York and develop an awareness for where their food comes from and its journey.
2021 Agricultural Literacy Week Videos
This year New York Agriculture in the Classroom will be sharing pre-recorded and live videos of guests reading Chuck's Ice Cream Wish and sharing their stories about how they connect with agriculture. The videos will be featured here during Agricultural Literacy Week.
Educator Resource Guide
Follow this simple guide to make ice cream with your students and learn how to extend their experience with ELA and Next Generation Science Standards connections.
Making ice cream is the perfect way to inspire your student's curiosity about why we add salt to ice, and to learn about heat exchange.
Companion Lessons and Resources
If you would like to prepare your students for Agricultural Literacy Week or extend the learning afterwards in your elementary classroom, you can use the listed lessons and resources below.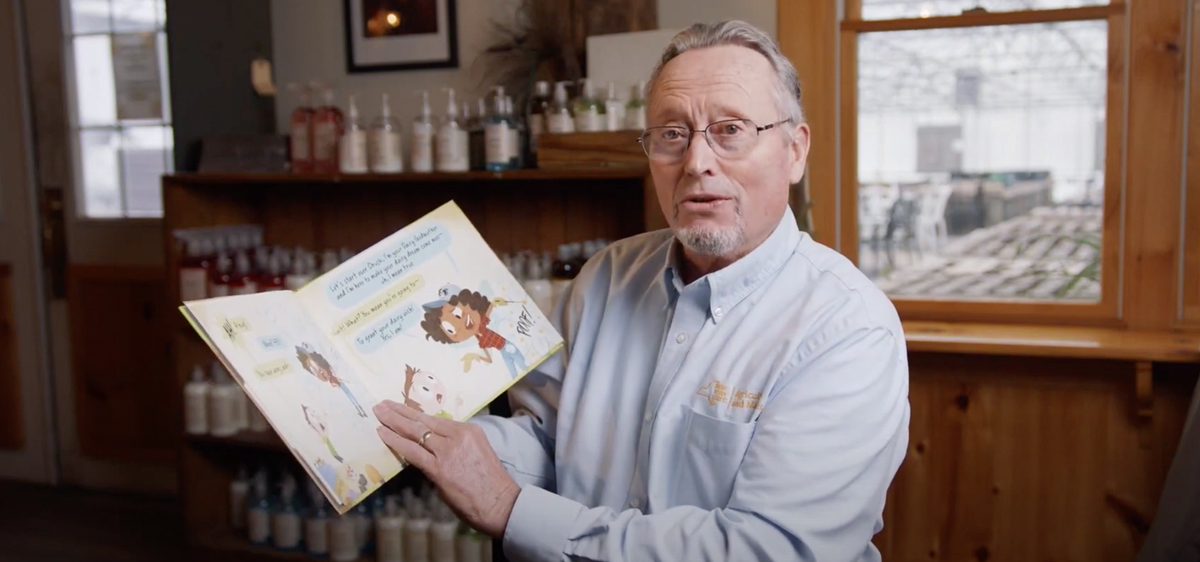 Agricultural Literacy Week Archive
Now in its 17th Year, Agricultural Literacy Week has helped to bring agriculturally themed books and resources into thousands of classrooms and libraries throughout New York State.
Click book image below to explore past years books and resources.
Sponsorships & Donations
Would you like to fund the purchase of one or more books?
The books are $12 each and will be donated to the school library after being read.
Contact your county coordinator for more details on where to send your donation. Donors will be recognized on a special bookplate. You may choose to have your donated book sent to a specific school, or to read it yourself to your local school.
For County Coordinators
This area of NYAITC's website is for those who assist with carrying out Agriculture in the Classroom programming. County coordinators should follow the link below to login and access planning documents and information regarding Agricultural Literacy Week.
---