Programs
Agricultural Literacy Week
Agricultural Literacy Week ~ March 21-25, 2022
How Does Agricultural Literacy Week (ALW) Work?
In celebration of New York agriculture, volunteers throughout the state will read a book with an agricultural theme to elementary students, with a focus on second grade classrooms. Farmers, FFA and 4-H members, adults engaged in a career in agriculture, and engaged in our food system volunteer to enthusiastically engage your students in a paired hands-on activity related to the book to extend learning. The book will be donated to the school or classroom library with a bookplate recognizing the donor and our celebration of New York Agricultural Literacy Week. 2,300 books were donated last year while 75,000 elementary students participated in an experiential learning activity.
Start to finish the program takes approximately 40 minutes per classroom
Agricultural Literacy Week volunteers work with their county's coordinator to set up visits to local schools
Volunteers read the selected book aloud to the students.
Following the reading, volunteers conduct an activity with students and share their experiences in agriculture.
The book is donated to the school or classroom library for students to enjoy and reference throughout the school year.
All activity materials are prepared by NYAITC and schools get to keep a copy of the book for their school or classroom library.
About This Year's Book
Farmer Will Allen and the Growing Table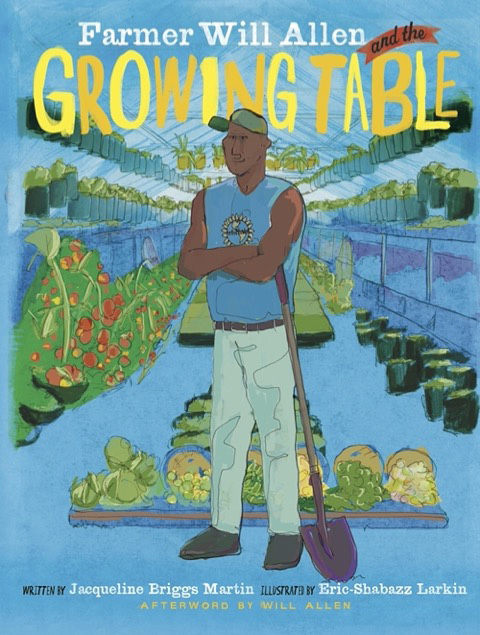 Agriculture is a unifying factor for communities all over. Whether you have 100 acres or a rooftop, there are opportunities for growing food and sharing the journey from soil to table with those around, as illustrated in Farmer Will Allen and the Growing Table. This book will take students on an explorative journey learn about community gardens and inspire them to build communities through food, even if they only have a pot on their porch to cultivate.
Will Allen is no ordinary farmer. A former basketball star, he's as tall as his truck, and he can hold a cabbage, or a basketball, in one hand. But what is most special about Farmer Will is that he can see what others can't see. When he looked at an abandoned city lot he saw a huge table, big enough to feed the whole world. No space, no problem. Poor soil, there's a solution. Need help, found it. Farmer Will is a genius in solving problems. Jacqueline Briggs Martin tells the inspiring story of an innovator, educator, and community builder. Combined with artist Eric-Shabazz Larkin's striking artwork, readers will share Will Allen's optimism and determination to bring good food to every table. This story also showcases the unique diversity of agricultural operations that is especially applicable to New York's combination of rural, suburban, and urban lanscapes.
Educator Resource Guide
Classroom ALW Videos
NYS Assemblymember Jaime Williams reads Farmer Will Allen and the Growing Table.
Adirondack Worm Farm owner Bill Richmond shares a look into his commercial compost business and worm farm operation.
Meet Farmer Will Allen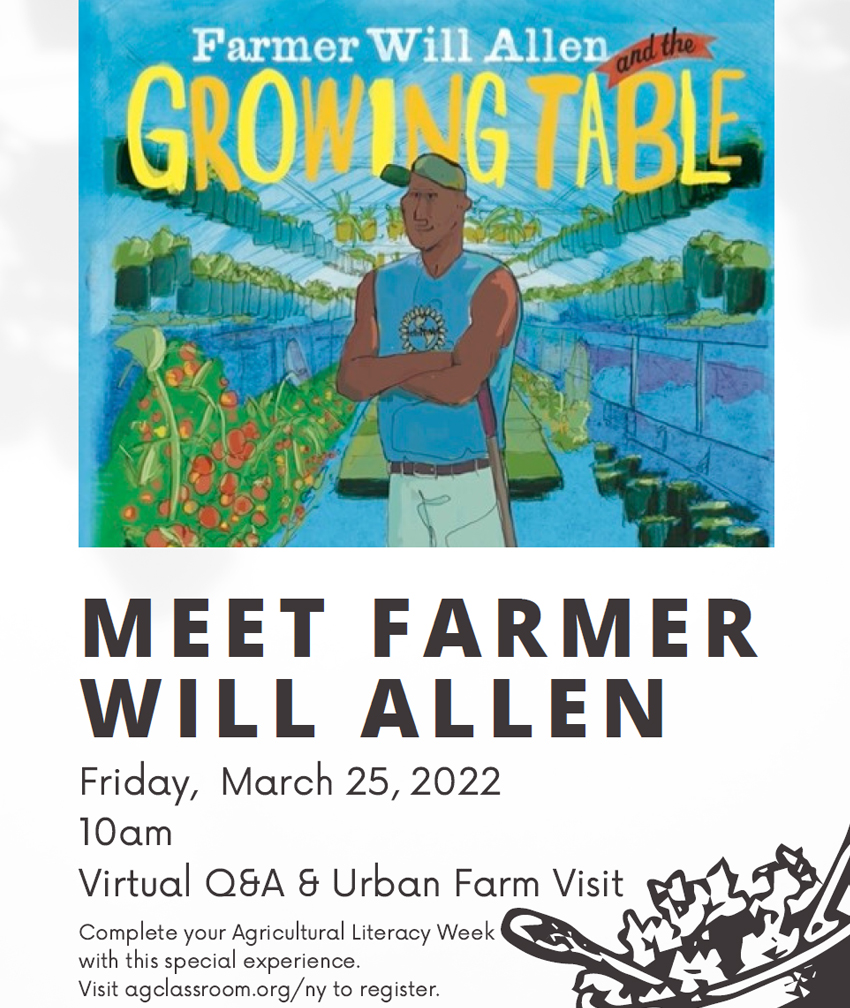 Farmer Will Allen is visiting New York during Agricultural Literacy Week! Classrooms will have the chance to meet Mr. Allen, ask him questions about his life and experiences, and walk through an urban farm in Schenectady County with him as he talks about worms, soil, and compost through a virtual experience.
LIVE Virtual Experience
Friday, March 25, 2022
10:00 am
Register for the Virtual Q&A with Farmer Will Allen
Companion Lessons and Resources
You can share these additional resources with the classes your volunteers read to so teachers may prepare their students for Agricultural Literacy Week or extend the learning afterwards in their classrooms.
Quizlet
Utilize this resource to explore the vocabulary in this year's book.
Agricultural Literacy Week Archive
Now in its 17th Year, Agricultural Literacy Week has helped to bring agriculturally themed books and resources into thousands of classrooms and libraries throughout New York State.
Click book image below to explore past years books and resources.
Sponsorships & Donations
Would you like to fund the purchase of one or more books?
The books are $12 each and will be donated to the school library after being read.
Contact your county coordinator for more details on where to send your donation. Donors will be recognized on a special bookplate. You may choose to have your donated book sent to a specific school, or to read it yourself to your local school.
For County Coordinators
This area of NYAITC's website is for those who assist with carrying out Agriculture in the Classroom programming. County coordinators should follow the link below to login and access planning documents and information regarding Agricultural Literacy Week.
---