Resources
Archived Resources
Over the last 30 years New York Agriculture in the Classroom has been involved with curriculum development and a variety of exciting educational partnerships and programs. While the resources and opportunities have evolved to meet the current educational climate, we still find value in the inspiration the programs and resources below offer. Explore and be inspired by our past programs and educational tools, and do not forget to engage in our most current resources on the National Agricultural Literacy Curriculum Matrix.
Lessons
NYAITC Lesson Plans
These are the lesson plans, in PDF format, from the original award-winning NYAITC notebooks. Lessons address concepts in language arts, mathematics, science, and social studies using the food and fiber system as a theme. Lessons include teacher instructions, student activities, worksheets, answer keys, puzzles, and games.
SOLE Activities
Science of Life Explorations through Agriculture
SOLE stands for Science of Life Explorations through Agriculture. It is a set of lesson plans, grouped into themed units, developed by NYAITC in conjunction with Cornell's Integrated Pest Management program. Each lesson ties key concepts of agriculture and natural resources into the classroom curriculum for grades four and five, and is aligned with New York State Learning Standards across subject areas.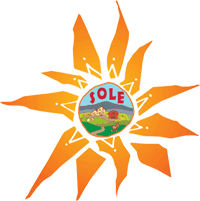 General Agriculture
Plant Science
Soil Science/Composting
Hydroponics
Insect Anatomy/IPM
Dairy
Specialty Crops
Make N Takes
These activities are quick and easy additions to any classroom, fair display or educational event.
Resources
Programs
---