Agricultural Literacy Curriculum Matrix
Companion Resource
Print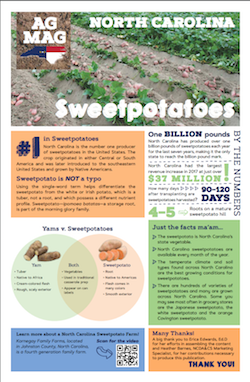 Sweetpotato Ag Mag
The Sweetpotato Ag Mag is an agricultural magazine written for elementary and middle school students. In this issue, students will learn that North Carolina is the #1 producer of sweetpotatoes in the United States and how the root vegetable was introduced to the nation. They will also explore the life cycle of the sweetpotato plant, its health benefits to humans, the STEM-focused processes for growing, harvesting, and curing sweetpotatoes, visit a fourth-generation sweetpotato farm, and investigate three careers that involve sweetpotato production. The reader can be viewed by students electronically on individual devices, as a class with a projector, or printed.
URL
Author
North Carolina Ag in the Classroom Foundation, Inc. in partnership with Erica Edwards, and the North Carolina SweetPotato Commission
Sources
This issue of the North Carolina Ag Mag was provided by North Carolina Farm Bureau Ag in the Classroom, Foundation and the North Carolina Sweetpotato Commission. This publication was supported by the U.S. Department of Agriculture's (USDA) Agricultural Marketing Service through USDA Specialty Crop Block Crop Grant 17-182-2001 (Sweetpotatoes in the Classroom).
Lessons Associated with this Resource
---