Agricultural Literacy Curriculum Matrix
Companion Resource
Print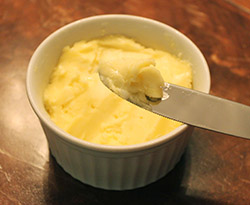 Better Butter
This activity details instruction for making butter in a small baby-food sized jar.
Time to Complete
40
Materials
Liquid heavy whipping cream
Clean baby food jars (one per group)

Plastic condiment containers with lids also work. They can be purchased from food service stores or may be available from your school's cafeteria.
Procedures
Discuss with your class where milk comes from and how milk is made into many products, including butter.
Go through the safety procedures and importance of cleanliness with students.
Group students into groups of two or four.
Discuss the whipping cream in its liquid form and let the students know that a change will be taking place with the whipping cream. The cream will change from liquid whipping cream to solid butter.
Pour whipping cream into baby food jars until half full.
Let the students screw on lids. Before shaking, the teacher should check to make sure the lids are securely closed.
Instruct students to shake the baby food jars. Teams or groups of students can take turns shaking the jars. The butter is done when there is one mound of butter in the center. There may also be a small amount of clear water, which can be drained off.
File, Map, or Graphic
Author
Utah Agriculture in the Classroom
Sources
The worksheets are used with permission from the Utah Dairy Council.
Lessons Associated with this Resource
---