Agricultural Literacy Curriculum Matrix
Companion Resource
Print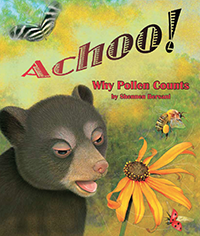 Achoo! Why Pollen Counts
A picture book teaching children about pollen, the pollination process, and bees. The story follows a baby bear who is allergic to pollen. He learns how pollen is used by other insects and animals such as spiders, butterflies, honey bees, hummingbirds, and more. This book can be added as an extension for lessons about flowers and pollination to help students see additional benefits and uses of pollen.
Procedures
Visit the following links for additional educational resources using this book:
Author
Sources
Completely vetted by Dr. Alan Graham, Curator of Paleobotany & Palynology at Missouri Botanical Garden's Center for Conservation and Sustainable Development.
Lessons Associated with this Resource
---