Programs
2011 Teacher of the Year
Congratulations to our 2011 NYAITC Teacher of the Year
from P.S. 164 in Brooklyn, NY, Taura McMeekin!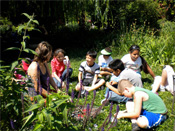 PS 164, located in Brooklyn, NY, connects 3rd graders with agriculture through their teacher, Taura McMeekin. Where the potential for a disconnect between consumers and producers is at its greatest, Taura McMeekin meets the needs of children and her community by instilling agricultural literacy, combining educational and lifelong needs; and partnering with outside organizations to create an oasis of agriculture within and outside of her classroom.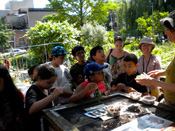 Taura has taught at PS 164 for only five years, but her impact is clear. She's partnered with outside groups to bring a school garden to her inner-city school. She teams her 3rd graders up with kindergarteners to learn about plant science, nutrition and healthy lifestyles. Her students prepare and deliver healthy snacks to each classroom in the elementary school, instilling a sense of ability and pride in her students for making healthy choices regarding food and food science. Additionally, Taura recognizes that nature, gardening and food are tools to meet any student where they are. She uses agricultural, farming and food lessons to help meet the needs of her students and students of the autistic school that is housed within the same building PS 164 shares.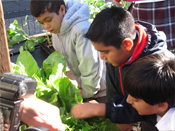 Taura has defined herself as a woman who cares about students and their future and recognizes that agricultural literacy is a key component of lifelong success. From global understanding of how the world works to an appreciation for fresh food and personal choices, Taura raises a generation of informed consumers in the busiest city in the world.
---
Past Winners
2019 [Press Release]
2018
2014 – Christine Bow
2006 - Joyce Nevison
2005 - Michelle Sutton
---