Programs
2023 Teacher of the Year
Congratulations to our 2023 NYAITC Teacher of the Year
Megan and Clayton Kappauf!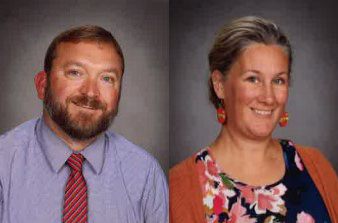 New York Agriculture in the Classroom recognizes an exceptional teacher, or teachers, who embody a passion for teachingthrough a lens of agriculture in their curriculum each year.We are proud to announce Megan and Clayton Kappauf, educators at Oxford Primary School, as the 2023 Teachers of the Year. The Kappaufs have created aunique classroomenvironment where students are actively engaged in authentic and hands-on learningthrough integrating food and agriculture,andthey are well-deserving of this recognition.
Megan and Clayton Kappauf will be representing New York Agriculture in the Classroom as model educatorswho incorporates agriculture as a context for learning in theirpre-kindergarten and STEAMclassrooms in Oxford,New York.The Kappaufs havethree aeroponic tower gardensto captivate students,and thetowersserve as atoolfor a real-world approach to reinforce core academic content inmath, science, English, social studies, and art.
Clayton's third grade students help Megan's kindergarten students germinate the seeds for their tower garden, and the third grade students monitor and maintain the tower gardens. By late fall the tower gardens began to producecrops ready for harvest,including a bounty of basil. Using the students' curiosity about basil as a teachable moment, the class learned how to make their own mozzarella cheese and were able to make astudent-made snack of caprese salad.
The tower gardens were a gateway to severalcollaborative and cross-curricular projects. As plants began to flower the need for pollination arose. Students learned about the role the bees and insects play in pollination and then had to learn how to pollinate their plantson the tower garden.The students were so motivated by growing their own foods that they wanted to build a greenhouse so they could growevenmore food. Clayton's class designed and built their greenhouse a little bit each afternoon until it was completed just before the end of the school year.
Megan's students were also excited to expand on what they had been growing. She wrote a grant to purchase three raised beds, a composter, and a vermicomposting system. Her students grew flowers to cheer up their campus, as well as peas and lettuce that could be eaten during the summer reading and math program.
For their excellence in teaching through agriculture, Megan and Clayton Kappaufwill receive an expense-paid professional development experience to theNational Agriculture in the Classroom Conference in Orlando, Florida. This opportunity will allow themto network with educators across the country and be inspired by newclassroom resources and tools to teach through and about agriculture.
For more information about the New York Agriculture in the Classroom Teacher of the Year program, visit the website at www.agclassroom.org/ny. New York Agriculture in the Classroom is an outreach programof Cornell University. Working with classroom teachers,volunteers, and agriculture's stakeholders, New York Agriculture in the Classroom fosters an awareness,understanding, and appreciation of our food and fiber system.
---
Past Winners
2019 [Press Release]
2018
2014 – Christine Bow
2006 - Joyce Nevison
2005 - Michelle Sutton
---