Programs
2018 Teacher of the Year
Congratulations to our 2018 NYAITC Teacher of the Year
in the elementary division, Amy Gosier!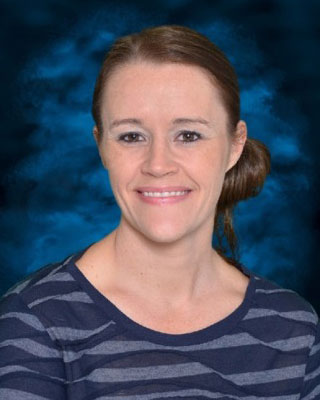 New York Agriculture in the Classroom (NYAITC) is pleased to announce the selection of Amy Gosier as one of our 2018 Teachers of the Year. Amy will be representing NYAITC as a model educator who incorporates agriculture as a context for learning in her first grade classroom at Ballston Spa Central School District in Ballston Spa, New York. Amy's students have grown to love learning about agriculture and seeing the cross-curricular connections that Amy makes with her extensive lesson plans.
Amy's tenure as an educator has spanned seventeen years, but her love of agriculture began when she was young and has always influenced her curriculum. She recognized the need for agricultural literacy starting at a young age in her suburban school district and had been intermittently including quick lessons about pumpkins, apples, and butter in her curriculum, but wanted to give her students the full experience of following a product from farm to table.
This past year, Amy connected with her next door neighbor's father who is a corn and soybean farmer in Bremer County, Iowa. Working with Bob Casterton and doing research on her own, Amy was able to build a unit on corn that included English, math, art, science, and technology concepts. The unit began with the question, "where does food come from?". Students were encouraged to think about all of the different foods they eat and where they thought it all comes from. Students were then told they would be focusing on a single product- corn.
Over the course of a few weeks, Amy learned alongside her students and guided them in several lessons on the topic of corn. These lessons included writing projects where they explored corn and all the processes involved with it, Indian corn art projects, and a STEM project to solve a farmer's invasive weed problems. The students were even able to video chat with Bob in Iowa and virtually ride along with him on his tractor through the fields. Amy ended her corn unit with a surprise visit from Bob as a mystery reader in her classroom.
Amy said of her experience teaching agricultural concepts and working with Bob, "Together, our positive energy and enthusiasm about this topic fed the students' excitement and eagerness to learn. My students now have a much better understanding of what agriculture is and its importance/significance to our country. My students also seemed to thoroughly enjoy learning about corn, farming and agriculture through the authentic learning experiences we provided. This unit left a positive impression on my students that they are sure to remember for many years to come". She plans to continue this lesson and expand it in years to come while also adding in more topics, like soybeans. Amy has been working with other teachers in her school district to share her lessons and get more teachers to include agriculture in their curriculums.
Amy Gosier is an incredible example of an innovative and passionate educator who believes in the importance of her students understanding and appreciating our food and fiber systems in their community. Amy will be awarded an expense paid opportunity to attend the National Agriculture in the Classroom Conference in Portland, Maine in June supported by New York Agriculture in the Classroom. This exceptional professional development opportunity will allow her the chance to meet and learn from educators across the country, and become exposed to even more classroom resources and tools to teach through and about agriculture.
You can follow Amy's class and her lessons on Twitter at @MTEGrade1.
New York Agriculture in the Classroom is also proud to recognize Amy Gosier as one of eight recipients of the USDA-NIFA National Award for Excellence in Teaching about Agriculture. Each year the USDA National Institute of Food and Agriculture and the National Agriculture in the Classroom Consortium recognizes exceptional teachers by presenting them with the Excellence in Teaching about Agriculture Award. This competitive program recognizes state selected "Teacher of the Year" recipients for their successful efforts in teaching agricultural concepts in their curriculum. Recipients of the distinguished award receive an honorarium of $500 and up to $1,500 for travel related expenses to the National Agriculture in the Classroom Conference. Watch the video below to see how Amy's agricultural literacy enthusiasm and successful teaching about agriculture.
---
Past Winners
2019 [Press Release]
2018
2014 – Christine Bow
2006 - Joyce Nevison
2005 - Michelle Sutton
---