Programs
2019 Teacher of the Year
Congratulations to our 2019 NYAITC Teacher of the Year
in the high school division, Jeanne Marie Quarto!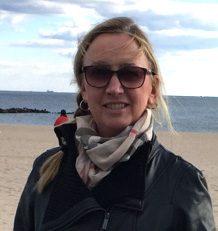 New York Agriculture in the Classroom (NYAITC) is pleased to announce the selection of Jeanne Marie Quarto as one of our 2019 Teachers of the Year. Jeanne will be representing NYAITC as a model educator who incorporates agriculture as a context for learning in her ninth-twelfth grade Special Education classroom at James Madison High School in Brooklyn, New York. Jeanne's students have had eye-opening experiences and been able to connect with the world around them through a lens of agriculture.
Jeanne has been teaching high school Special Education for almost 33 years and has been striving to motivate and challenge her students to see the fruits of their labor. Agriculture has always played a key role in Jeanne's life, as her Father was a Master Gardener on Long Island. She brought that passion for agriculture that she grew up with into her classroom so she could share it with her students.
After much hard work attending workshops to help write gardening curriculum and gathering resources, Jeanne got her school garden up and running with the full support of her principal, Mrs. Jodie Cohen, and with the support of her fellow teachers, Mrs. Olivia Duran and Mr. Bill Dumont.
Jeanne found ways to engage her students and make the garden a complete cross-curricular experience that they could see from start to finish. She started in her Science classes by comparing and contrasting, experimenting, forming hypotheses, and using senses for observations about seeds. Her students learned about how these seeds lived and grew through soil and water studies. They researched the differences between living and non-living things and how our living plants rely on non-living elements to survive. They also tested different soils and observed the effect different amounts of water and light have on plant growth. These tests led directly into incorporating Math concepts into the gardening unit.
As they observed how their plants grew, Jeanne's students needed to record the growth of their seedlings in order to chart their progress. They measured plants in different conditions weekly, recorded, and then graphed it.  Graphing gave the students a good visual for comparison and helped to increase their fine motor skills working with colored pencils, rulers, and graph paper. Then they were able to compile all of their results into one single graph.
As the seedlings grew and thrived, Jeanne helped her students find a long-term solution to make their classroom garden sustainable. They went out the available school plot to measure their space, collaborated on plotting the space to fit the most raised beds, measured and marked the lumber, and asked the school's PE teacher to assist with cutting the lumber. They then assembled the beds themselves like professionals. In this garden they built, they were able to produce tomatoes, cucumbers, and basil this past summer. This year, they plan on growing a few winter crops and discussing and researching what crops would be better suited for the area.
Throughout the process, the students wrote about everything; even if it was one sentence a day about what was going on with the garden, or how the seeds were growing, or how they worked together to build the raised beds. They also conducted more in-depth research on specific plants and crops in the United States through a project entitled "Crops and the New World". Each student chose a specific crop and then researched the origin of the crop and the explorer responsible for bringing it over. With this project, the students created a diary, pretending to be that explorer, and detailed how they felt sailing overseas for many months on a ship and how they felt being in a new land.
In the interest of giving back to the environment and being sustainable, the students also planted a wild flower raised bed. They did extensive research and mapping with the assistance from Growing Wild NYC and decided to plant Joe Pie and Milkweed. These specific plants were chosen to attract Monarch Butterflies during their migration from Mexico to Canada and back.
Jeanne Marie Quarto is an outstanding example of a progressive and impassioned educator who believes in the importance of her students understanding and appreciating our food and fiber systems in their community. Jeanne will be awarded an expense paid opportunity to attend the National Agriculture in the Classroom Conference in Little Rock, Arkansas in June supported by New York Agriculture in the Classroom. This exceptional professional development opportunity will allow her the chance to meet and learn from educators across the country, and become exposed to even more classroom resources and tools to teach through and about agriculture.
---
Past Winners
2019 [Press Release]
2018
2014 – Christine Bow
2006 - Joyce Nevison
2005 - Michelle Sutton
---